Although our building is all for using colors, I felt as if the circulation (hallway) needed to remain neutral to make the usage of colors purposeful. Aluminum metal panels are used to clad the exterior the building except for the Gathering space. The studios open up to outside with garage doors. This moment is complimented with a material change of vertical corrugated metal with color based on their function such as discovery, application, or collaboration. The south elevation shows how the perforated metal acts as a secondary skin that wraps itself around the building. The perforations allow natural light to be diffused into the spaces with glazing. The perforated metal panels are white to match the aluminum panels. The shading device doesn't need color to show that it's important because the perforations only occur at this instance.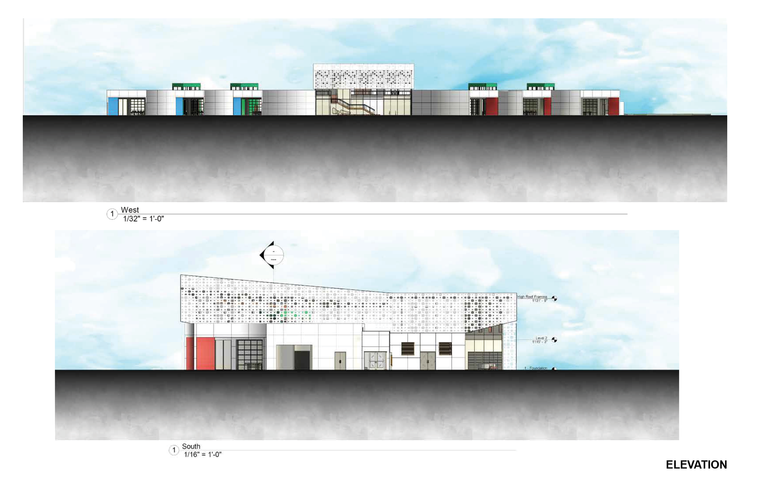 [Elevations from Revit + Enscape, Photoshopped by Me]
The HVAC plan has relatively stayed the same since schematic design. The only change needed for the plan was made in section view. Our professor called this part of the building the critical section because it shows how the HVAC interacts with the structure and floor heights. After taking a look at this section, I was told that the floor height, when accommodating for mechanical systems, was to short. I was able to move the floor up a couple feet without making too many changes. However, changing the shape of the HVAC from a cylinder to a rectangle freed up a lot more space than expected!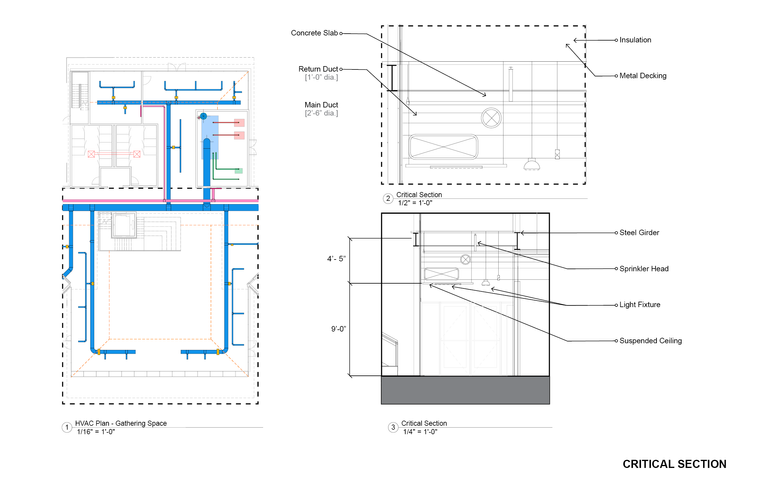 [Sections from Revit + Enscape, Photoshopped by Me]